FORRM NU FORRM
DIGITAL & 12´ Available ON BANDCAMP
  BONUS ITEMS
 
FORRM originally released its explorative psychedelic rock debut album FORRM NU FORRM in July 2022 on the occasion of the artists participation at the 59th Biennale di Venezia. Bandcamp release arrives Summer 2023.

Album opens with a 17mn monumental sinuous sonic adventure setting the tone ( SHIMMER ) as FarmanFarmaian leads on electric guitar placing tribal riffs and deep atmospheric distorted soundscapes threading creative conversations with Axl Narayana's hypnotic Tabla sequences and escapades on his Persian Oud flute.

FOORM NU FORRM actively seeks connections to Gnawa trance and Sub-Saharian desert rock ( SHIMMER / A NOMAD PRAYER ) while extemporizing poetic shamanistic dreamscapes ( A HIDING PLACE / EMBERS ATONE ) and prophetic progrock visions ( GATES OF TURAN ).

Produced by Firouz FarmanFarmaian in collaboration with Spanish psychedelic rock Producer Jose Maria Sagrista in the Winter-Spring of 2021-2022 at Punta Paloma Studios Tarifa Spain  the album features German master Tabla - Flute player Axl Narayana and French Producer-Drummer, Philippe Deshaies.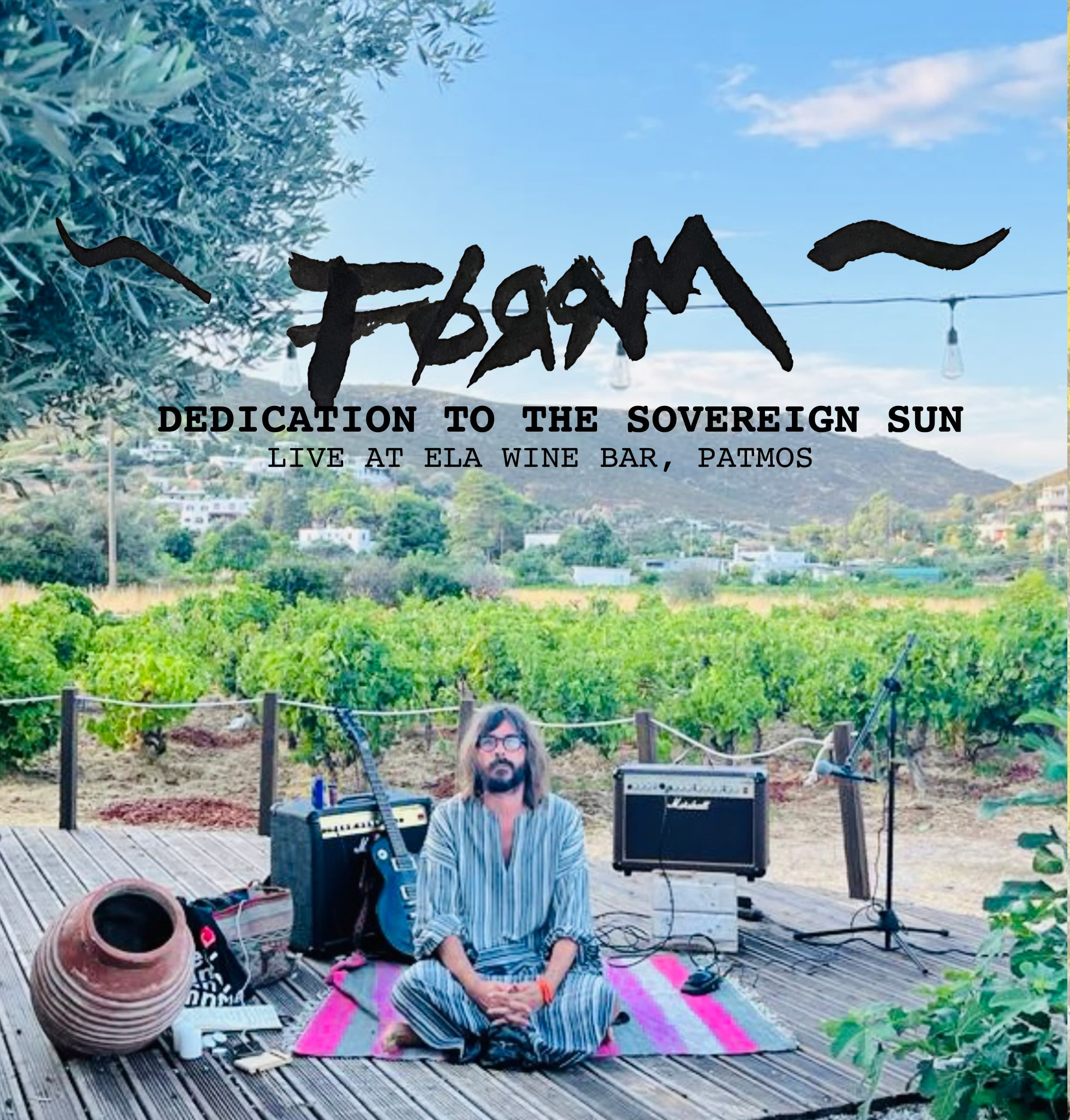 FORRM DEDICATION TO THE SOVEREIGN SUN LIVE IN PATMOS compiles 4 segments united in a single set built as a live medley performed iN AUGUST 2022 at the ela wine bar- on an open E tuning.

ODYSSEUS ELYTIS is dedicated to the Greek poet, with a recitation of extracts of his Nobel prize 1979 speech.

1994 is FORRM's cover of PLAYGROUND's 2004 hit single.

JIMI HENDRIX IS NOT DEAD tests the grounds of a new FORRM potential track improvising on words Jimi Hendrix wrote on the body of a Stratocaster Fender Guitar before he sacrificed it onstage in London 1968.

Finale with SHIMMER revisited on open E.

Recorded live on Patmos Island, Greece @ Ela Organic Wine Bar - August of 2022. Additional takes recorded We R The Nomads Agency, Athens 2023.

Produced by Firouz FarmanFarmaian.






FORRM SOUNDCLOUD PLAYER

BOOTLEGS

Ragtag Selection of ongoing processes, soundscapes and live takes


Soundcloud

FORRM 'UNDER THE TUNDUK' LIVE IN VENEZIA 22/04/22

KYRGYZ PAVILION - 59TH INTERNATIONAL EXHIBITION OF LA BIENNALE DI VENEZIA

22 April - 27 November 2022

Vocals, Electric & Spanish Guitar Firouz FarmanFarmaian /Tabla, Flute, Kalimba Axl Narayana / Additive Percussions Amir FarmanFarma





FORRM is Retrofuturist Contemporary Artist Firouz FarmanFarmaian's new born explorative experimental-fusion-rock platform

FORRM signs the PHYSICAL & DIGITAL soundscapeS of GATES OF TURAN FFF's Venice Biennale immersive installation for the KYRGYZ PAVILION-



Produced by Firouz FarmanFarmaian and to be Published in Digital, Vynil and SYNCRETIC NFT the collection takes its inspiration from journeyS in the Krygyz highlands.

Album was Recorded and Mixed by Jose Maria Sagrista in the winter-Spring of 2022 at the Punta Paloma Studios in Tarifa Spain FEATURING master Tabla - Flute player AXL NarAyana and Parisian Producer-Drummer Philippe Deshaies.

FORRM TALKHIMT TADOUNIT

Firouz FarmanFarmaian Film

TALKHIMT TADOUNIT

produced and recorded on the road while sourcing the MEMORANDUM OF THE UNKNOWN PATH EXHIBITION-installation in Southern Saharaian Morocco in 2019-2020 FEATURING SPANISH-ARGENTINE SOLOIST DANIEL JAMESON.

ELECTRIC GUITAR, VOCALS : Firouz FarmanFarmaian / ELECTRIC Guitar, Keyboards : Daniel Jameson

1-54 African Art Fair Public Program Theatre Royal de Marrakech in Feb-April 2020. WITH SUPPORT OF Flora Family Foundation, MOP FOUNDATION

Produced by We R the Nomads Agency 2020.

FORRM SHIRAZ 77'

Firouz FarmanFarmaian Film

SHIRAZ 77 ( DEMO EDIT ) 21:04'

is THEV DEMO EDIT OF A freeform experiment revisiting the last Shiraz Festival held in Persepolis in 1977 through the transformative traumatic PRISM of the Iranian 1979 RevolutioN

Electric Guitar Vocals : Firouz FarmanFarmaian /Tantric Flute, Oud, Tabla : Axl Narayana / KEYBOARDS : Philippe Deshaies
We R the Nomads Agency 2021.

STRANGE DEATH OF THE FUTURE

Firouz FarmanFarmaian Film

STRANGE DEATH OF THE FUTURE freely takes its inspiration from Futurist

thinker Aaron Bastani's radical vision for our dawning century as found in the 'Fully Automated Luxury Communism' Manifesto ( Verso Books 2019 )Originally created as a 116 second Poem-track in May 2020 as Soundscape for the VR online exhibit

'Let's Get Lost : Let Them Send Out Alarms 2.0'

the SDOF Soundscape later featured in

'Art in Isolation'

Middle East Institute Washington DC Exhibit in October 2020. Subsequently the soundscape was augmented with video art to be brought into Nouvelle Vague Artspaces experiential Artgate VR space in 2021.

GUITAR, VOCALS : FIROUZ FARMANFARMAIAN
NOUVELLE VAGUE ARTSPACES 2021