FIROUZ FARMANFARMAIAN NFTs
STRAY BEYOND BORDERS, FORMAT, MEDIUM
NAVIGATING A MULTIPLICITY OF CURRENTS IN ART
PLANET PRESERVATION & PHILOSOPHY
ACTIVELY ENGAGED IN BRIDGING DIALOGUES BTW
PAST / FUTURE
EAST / WEST
THE ARCHAIC / THE INNOVATIVE
UPDATES

GATES OF TURAN JOL NFT COLLECTION
UNVEILS 22-04-22
----
REEMERGE CURATED BY HEIDI KOMARAMI
Feat. Firouz FarmanFarmaian NFTs
LISTED ON ULTRA ART CURATED PLATFORM
TERMINATED 12-09-12
KATHRYN MARKLE GALLERY
BRIDGEHAMPTON,NY
----
NFT ART NO NFT TRASH MANIFESTO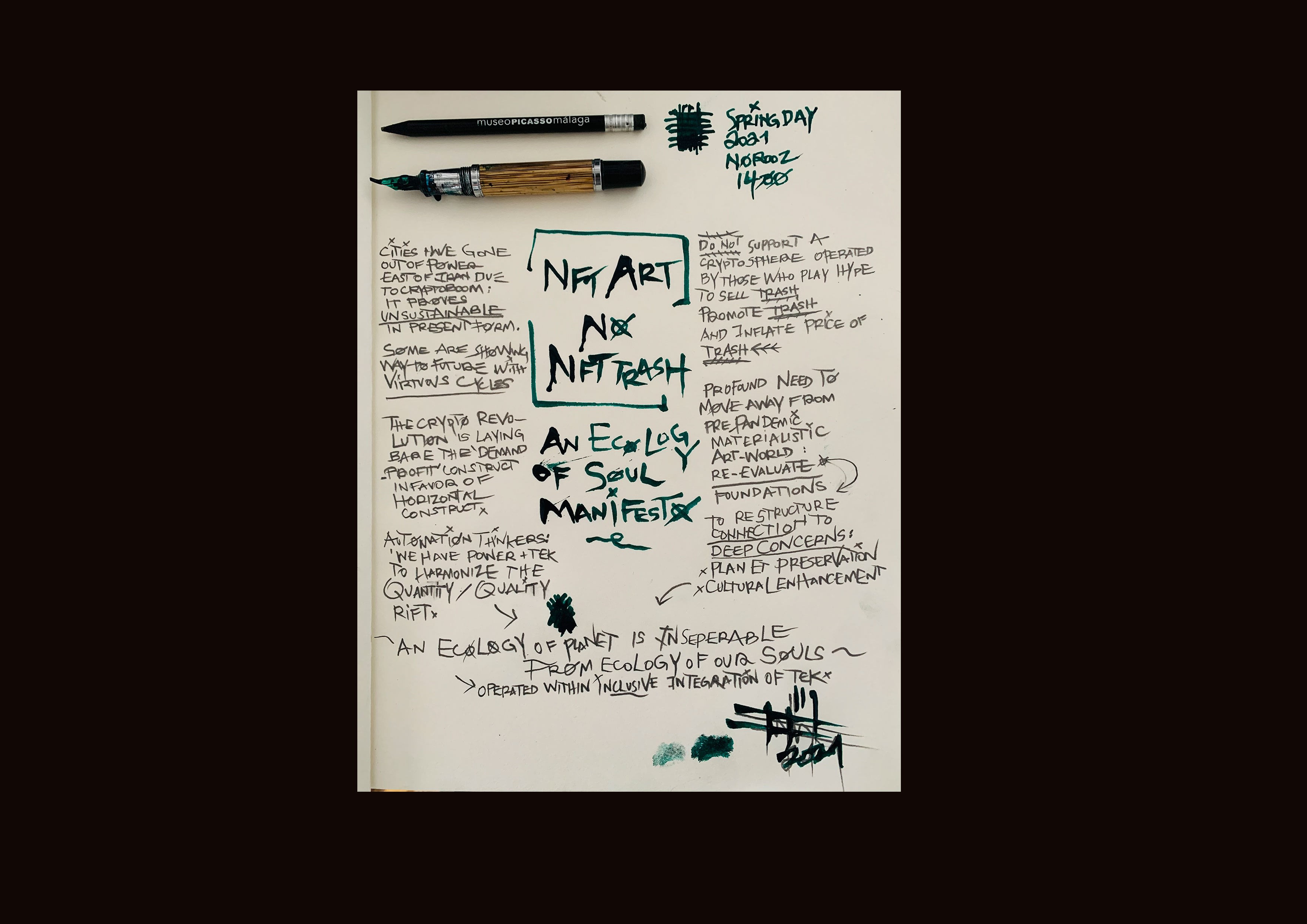 ABOUT THE DROP
'The Manifesto grew as a reaction to the grotesqueness of the Beeple Christies sale. To see the same pre pandemic shameless errors committed by the same usual suspects
had me react with pen and paper.'
Created in March 2021 on A3 paper sketchbook with 2B pencil and Prussian blue China ink in reaction to the Christies Beeple sale. The NFT is drop 1 in a collection of 3 .
Portion of the sale of the Manifesto Drop 1 will fund Firouz FarmanFarmaian
'Gates of Turan' Venice Biennale 2022 fundraiser.

---
TAKEOVER COLLECTION DROP

ABOUT TAKEOVER COLLECTION

I have not had full access to my physical workshop for a year due to repeated Lockdowns. The challenge to create within restrictions has made me work at home in an exponential way and as a result my production and practice have adapted and have organically grown towards unsuspected directions. Less interaction with physical objects due to spacial limitations have fortified and strengthened my mental projections and as a result I have mostly been consigning ideas and forms I call TAKEOVERS on A3-A4 sketchbooks, recycled cardboard, newspapers and fashion art magazines using acrylic markers and wallpaint. Have been publishing result as physical art on IG and on websites first then went on augmenting the work via digital tools and experimental VR apps such as Tilt Brush on the Oculus Quest 2 Headset, dropping those as an NFT collection on Opensea. The Takeover Collection is my most important NFT collection to date and is still growing.